Meet the Family Chiropractic Team
Belinda Ambrose BSc, MChiro, Bsc (Hons) LicAc – Chiropractor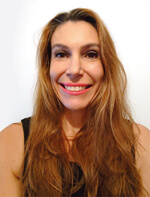 Belinda has had an interesting and varied upbringing, starting in Australia until the age of three. Her family then emigrated to Africa where they worked and lived for a number of years namely in countries, Mozambique, Rhodesia and Sudan. Eventually the family moved to the UK and were based there for around six years.
Belinda's parents had a second base in the Middle East (Syria) where her father worked. Belinda and her brother Wayne attended boarding school in the UK and traveled regularly to Syria in the holidays. Eventually, the family moved back to the Central Coast in Australia where Belinda finished high school. Later Belinda graduated from Macquarie University in Sydney in 1993 with a Master of Chiropractic after completing a Bachelor of Science (Anatomy major) in 1991 at the University of New South Wales, Sydney.
Belinda later obtained a third degree (Bachelor of Science with 1st Honours) from Portsmouth University, UK in Acupuncture & Oriental Medicine in 2005. She has practised both in Australia and the UK, eventually setting up Ambrose Chiropractic in 1998 in Ashford, Kent, and later Family Chiropractic in 2008, in Hexham, Northumberland.
Meet Lucy, Janet & Kathryn – Team Aligned Family Chiropractic!
Lucy, Janet and Kathryn are our amazing Chiropractic assistants and are your first point of contact. They take care of all administrative aspects of the practice as well as being trained in various clinical and technical aspects.
Lucy – Senior Chiropractic & Technical Assistant
Lucy has been working at Aligned Chiropractic since December 2008 and is a valuable asset to the practice with her bubbly nature and cheery smile. Having started a family with her husband Mark, they are all regular visitors to the practice for adjustments, including their son who had his first adjustment at 3 days old.
"Having seen over my years at Aligned Chiropractic how much Chiropractic care can help and improve people's quality of life, I'm so pleased I'm able to give my young son the best start in life and as a family, know we're all working towards a healthier lifestyle and future."
In her leisure time, Lucy is a dedicated mum, and whenever she find a moment to herself, loves a family trips out to the Northumberland coast and a spot of flower arranging.
Lucy is trained as an x-ray technician and Radiation Protection Advisor.
Janet – Chiropractic & Technical Assistant
Janet is our newest team member and has settled in beautifully to life at Aligned.
In her leisure time, Janet loves spending time with her family and friends. And loves keeping her garden tidy when the weather allows.
Kathryn – Chiropractic & Technical Assistant
Kathryn has been part of time since the Spring of 2021. Kathryn runs our monthly FREE Spinal Screening sessions and helps at reception from time to time. She's always full of energy and busy – running her own Wellbeing practice within the building and teaches Pilates in our lovely studio.

Aligned Family Chiropractic Team | 01434 605 688